About the Raj bhavan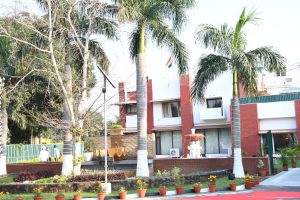 Plot Area = 9.21 Acres,
Year of construction = 1961,
Architect = Pierre Jeanneret,
Raj Bhavan Haryana is situated on a sprawling estate facing the pictures que Sarovar Path near Sukhna lake in Chandigarh. The estate is flanked by UT guest house, the Chandigarh Golf course, and Sukhna lake.It was planned as the Chief Minister's Residence but was never used for its intended purpose. It functioned as the Circuit House during the early years and consequent upon the reorganization of the State of Punjab in 1966, it was converted into the residence-cum-office of the Governor of Haryana. Designed by Ar. Pierre Jeanneret who was a part of the original team of the Architects of the city. The Haryana Raj Bhavan is an important building of the city and a part of Heritage Zone XIII.
Read More