A year of great fulfillment as Governor of Haryana!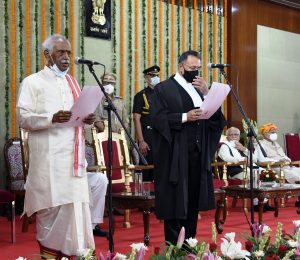 On July 15, 2021, I took oath as the 18th Governor of Haryana, a great land so rich in culture, values, ethos and traditions, and blessed with a rare spiritual legacy. My over a year long sojourn with Himachal Pradesh, nestled in the lap of magnificent Himalayas, as its Governor was equally satisfying. I still cherish my Himachal memories! People of Himachal Pradesh are very simple, natural, friendly and full of compassion. I wish and pray that they ever remain so!
It has been equally a satisfying experience in Haryana so far. Though I have completed a year as the Governor of the state, I don't feel so. It has been such a fulfilling time. I feel emotionally and mentally so well attached to the state that I did not realize how I completed a year. Credit goes to the people of Haryana – so affable, humble, down-to-earth, non-assuming, simple and straight.
Their simplicity has been appealing to me from the very beginning. I have interacted with them on numerous occasions. They are kind hearted and take care of their cultural, social and spiritual heritage. They are very particular about their ethos and values attached with their villages, and maintain brotherhood against all odds. They are neither pompous nor commercialized.
I have found the state to be spiritually blessed immensely. The great divine message of the holy Gita was delivered by Lord Krishna during the Mahabharata War at Kurukshetra. I have been to Kurukshetra many times. I could feel the divinity of the place while participating in 'aarti' at Brahm Sarovar. I am glad to see Kurukshetra fast emerging as a global tourist destination thanks to the annual International Gita Mahotsav.
I was overjoyed to visit Adi Badri, north of Kathgarh, in the foothills of Siwalik Hills in northern Yamunanagar district, from where the river Saraswati originated. Felt ultimate peace amid chanting of Shlokas by the students of Gurukul. Performed puja as well! It is commendable that the Haryana Saraswati Heritage Development Board has been established to promote and protect the Saraswati heritage, which represents the cradle of Indian civilization that flourished on its banks.
What makes Haryana unique for me is its rich and vibrant historical legacy. Recently I visited Kala Amb war memorial complex where the Third Battle of Panipat was fought! I could easily feel the fragrance of the great soil of Haryana, which is a great testimony to several ups and downs in our evolution as a great nation.
I also look at Haryana as the confluence of great traditions of Punjab and Himachal Pradesh, which are so central to their ethics and way of life. The aura of Great Gurus like Sri Guru Gobind Singh, the valour of freedom fighter Rao Tula Ram and the farsighted leadership of Sir Chhotu Ram – Haryana offers more than what one's eyes!
The magnificent Aravalli and Shivalik hill add grandeur to the beauty of the state. I still relish the memories of my visit to Sultanpur National Park, a paradise for bird watchers. Morni Hills, Tikkar Taal and Pinjore Garden take one to the serene world of nature. For me, these are not mere tourist spots but important natural assets which are being preserved and protected.
It won't be fair if I do not reflect upon people's common urge to grow together in an atmosphere of peace and brotherhood. Their love for dairy business, sports, traditional song, dishes is quite unique. The fascination of girls and boys towards sports and the armed forces is amazing. I was so impressed to meet Shanan Dhaka at Raj Bhavan, who secured the first rank among female candidates in the entrance examination for the National Defence Academy (NDA).
In fact, collective efforts are being made to improve the people's ease of life and take the state to the next level of glory and prosperity. The march of people of Nuh towards development by making the most of education facilities is commendable. Peace is a prerequisite of sustainable growth of society. 'Bhaichara' or brotherhood is an important tenet of Haryana's social life, which I appreciate from the core of my heart.
I admire the wholesome approach with which Chief Minister Shri Manohar Lal ji is working to ensure all round development of the state. We do have regular interactions with regards to various issues related to the welfare of the people of the state. I will mention a stance here, which I liked and appreciated as the Governor. I suggested him to discuss an ordinance in the House which he readily agreed to. The ordinance was discussed and passed in the House. It made me really happy!
I have regularly been interacting with ministers and bureaucrats as well. They are good and dedicated to their responsibilities and duties. Every interaction with them enriches me! Today Haryana is a pioneering state in industries, agriculture, services and education. My interactions with multiple stakeholders make me believe that there is a strong earnestness among them to contribute to the state's holistic development.
It gives me a great deal of satisfaction to see the way the political parties and leaders maintain decorum in their public life. Political bonhomie is of paramount importance in making democracy vibrant. There is no ill will among them, which appeals to me a lot.
As the Chancellor of Universities, I have visited almost all universities. I am immensely pleased to share here that they are doing a fabulous job. They are implementing the new National Education Policy-2020 by 2025 itself, much before the deadline of 20230. Similarly, the work of Haryana State Red Cross Society, Child Welfare Department, Deaf and Dumb Welfare Centres are doing a commendable job.
I strongly feel that all stakeholders should contribute their bit to make Haryana more vibrant and prosperous. I have interacted with media people on many occasions. They are quite positive and meaningful. So are social workers and members of civil society! Common people also partake in development programmes, which is a healthy sign.
Having visited almost all districts of the state, I am confident that Haryana is poised to touch greater heights of success and recognition. Farmers are making an incredible contribution to the state's holistic development. Natural farming is gaining pace in the state, which is a good thing. The increasing use of technologies in governance is making the system more transparent and responsive. The day is not far off when Haryana will be a role model in good governance and development in the country.