Pride of Haryana Sh. Neeraj Chopra, who left an exceptional mark in the recent Tokyo Olympics by fetching a gold medal for the country, today met Governor of Haryana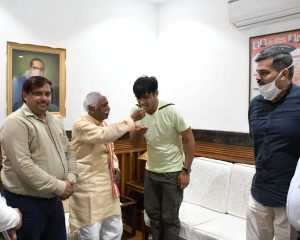 Pride of Haryana Sh. Neeraj Chopra, who left an exceptional mark in the recent Tokyo Olympics by fetching a gold medal for the country, today met Governor of Haryana, Sh. Bandaru Dattatreya during a courtesy call here in Chandigarh. Haryana Governor honoured Sh. Neeraj Chopra by presenting him a shawl and an idol of Lord Tirupati Balaji. He also offered him special 'Desi Ghee Churma.'
On this occasion, Principal Secretary, Sports Department, Sh. A.K. Singh, Secretary to Governor, Sh. Atul Dwivedi, Deputy Commissioner, Panipat, Sh. Sushil Sarwan, Director of Sports Department, Sh. Pankaj Nain, Neeraj Chopra's uncle, Sh. Bhim Chopra and other dignitaries were present.
Sh. Dattatreya conveyed his best wishes and blessings to Sh. Neeraj Chopra for his future endeavours. He hoped and expressed confidence that he will maintain his solid commitment to preparations for future games and will certainly cross many more milestones in the years to come and will make the country proud.
The Governor said that Haryana has become the hub of sports, the credit of which goes to the sports policy of Haryana drafted under the visionary guidance Chief Minister Shri Manohar Lal.
Under the new sports policy of the Haryana Government, prizes worth crores of rupees are being given to the players. An amount of Rs. 6 Crore is being given to the Olympic gold medalist, Rs. 4 Crore to the silver medalist and Rs. 2.5 Crore to the bronze medalist in the State. Along with this, job offers and other facilities have also been announced to the medal winners under the sports policy.
Shri Dattatreya has urged the sportspersons of the State to prepare themselves well for the coming Commonwealth Games and Asian Games. He said that he has no doubt about the fact that they will bring many more laurels to the State by winning more medals. The Governor also thanked all participants and also lauded the women hockey team's outstanding performance in the Tokyo Olympics.
On this occasion, Sh. Neeraj Chopra also shared his experience during the event and preparation. He said that he will always remember and cherish the love and blessings given by the Prime Minister, Sh. Narendra Modi ji, which will ever be a great source of motivation for him. He also expressed his gratitude to Haryana Governor, Sh. Bandaru Dattatreya and Haryana Chief Minister, Sh. Manohar Lal for their inspiration, which would encourage him to move forward. He also lauded the facilities provided by the State Government and the Indian Army.
The Principal Secretary, Sports Department, Sh. AK Singh, who was present on the occasion, apprised the Governor about the sports activities in the State as well as the facilities being provided to the players of Haryana.