India will never forget the indomitable courage of our brave soldiers who liberated Bangladesh from Pakistan in the 1971 Indo-Pak War – Governor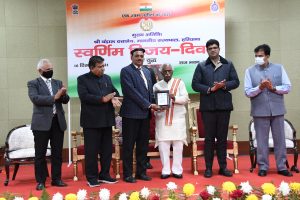 Chandigarh, December 16, 2021: India will never forget the indomitable courage of our brave soldiers who liberated Bangladesh from Pakistan in the 1971 Indo-Pak War. They will always be remembered and revered for their supreme sacrifices for the nation. This was stated by Haryana Governor Shri Bandaru Dattatraya at 'Ek Shaam Shaheedo Ke Naam' function organized at Raj Bhavan today on the occasion of 50th anniversary of Vijay Diwas. He also felicitated veterans who took part in the 1971 war on the occasion.
The Governor said that Azadi Ka Amrit Mahotsav is being celebrated in the country. It is a great coincidence that 50th anniversary of Vijay Diwas is also being celebrated in the country today. My hearty congratulations and best wishes to the people of the country and the state on these two auspicious occasions, he said.
Shri Dattatraya said that on this day fifty years ago, the Indian Army under the leadership of Field Marshal General Sam Manekshaw forced the Pakistani Army to surrender in just 13 days of war. On December 16, 1971, General AK Niazi surrendered with his 93000 soldiers in front of Lieutenant General Jagjit Singh Arora. It is a rare moment in war history, he said.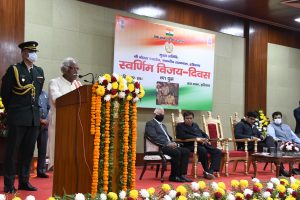 The Governor said that the Central and state governments are providing many facilities to the families of martyrs and freedom fighters and their dependents. The Central government has introduced an integrated system for automation of the approval and distribution of pension. One Rank, One Pension (OROP) has been started by the Central government, which has benefited our ex-servicemen. Under the leadership of Prime Minister Shri Narendra Modi, the Central government has provided our defence forces with state-of-the-art missiles and other paraphernalia so that enemies are given a befitting reply when needed. For the first time in the country, Prime Minister Modi ji created the post of Chief of Defense Staff (CDS) for better coordination among three services. General Bipin Rawat, who was our first CDS, played an important role in modernizing the Army and strengthening the strategic sector. General Rawat attained martyrdom in a helicopter crash on December 8.
Governor Shri Dattatraya said that a separate department has been formed in Haryana for the welfare of soldiers, ex-servicemen and their families. Many schemes have been implemented through this department. The financial assistance given to ex-servicemen and their widows and orphaned children of ex-servicemen and war widows of 1962, 1965 and 1971 has been increased from Rs 2000 to Rs 5000 per month from 2016 onwards. This amount is increased by Rs 400 every year on the occasion of Haryana Day. He especially congratulated the Chief Minister Shri Manohar Lal for implementing these schemes.
On this occasion, Haryana Deputy Chief Minister Shri Dushyant Chautala said that 10 per cent of the Indian Army, 12 per cent in the Air Force and 16 per cent in the Navy are from Haryana. So there is a need to set up an Officer Training Academy in Haryana for which serious efforts will be made.

Former Army Chief Shri VP Malik and Colonel Shri SS Kalia also shared their experiences of the 1971 Indo-Pak war.Among dignitaries present on the occasion were Shri Gian Chand Gupta, Speaker Vidhan Sabha; Shri Kanwar Pal, Education Minister; Shri Moolchand Sharma, Transport Minister; Shri Ranjit Singh, Power Minister; Shri Banwari Lal, Cooperation Minister; Shri Ranbir Gangwa, Deputy Speaker, Haryana Vidhan Sabha; Shri Anup Dhanak, Minister of State for Archeology and Museums, Lt. Genral Devender Sharma Chief of Staff head Quarter Westren Command, Col. J.S. Sandhu Adviser cum P.D Western Command , Ex Navl Chief Admiral Sunil Lanba, Shri Sanjeev Kaushal, Chief Secretary Haryana, Shri Virender Singh Kundu, Additional Chief Secretary, Department of Sainik and Ardh Sainik Welfare. Several other dignitaries including former defence officers were also present on the occasion.