Haryana Governor Shri Bandaru Dattatreya paying tribute to Mahatma Jyotiba Phule at a function organized at Raj Bhavan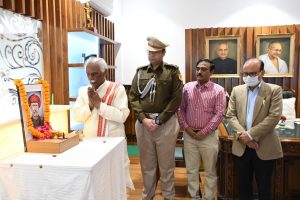 Mahatma Jyotiba Phule was a pioneer of women's education in India. He worked for the abolition of the caste system, educating women and poor sections of society. This was stated by Governor of Haryana Shri Bandaru Dattatraya while paying homage to Mahatma Jyotiba Phule at a program organized at Raj Bhavan on his death anniversary today.
Shri Dattatraya said that Jyotiba Phule was a true nationalist, great thinker, anti-caste social reformer, and a great writer. He always worked for the welfare of backward castes, scheduled castes, the downtrodden, and other deprived people. Mahatma Phule along with his followers also formed Satyashodhak Samaj to get equal rights for the Scheduled Castes and Backward Castes.
Shri Dattatraya said that Mahatma Phule believed that only education can make a person's life better. For this purpose, he did the work of educating the poor people of society. First of all, he educated his wife Savitribai Phule, who became the first woman teacher of India.
Today's young generation should take inspiration from the struggling life of Jyotiba Phule and his monumental works done for the welfare of poor, backward, and underprivileged people and should come forward to educate them. This will be the true tribute to Mahatma Jyotiba Phule, said Shri Dattatraya.