Guidance of Hon'ble President will give a new direction to rural development in Haryana: Governor Shri Dattatraya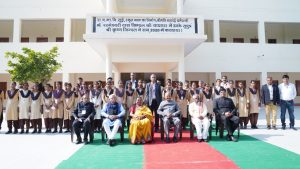 Haryana Governor Shri Bandaru Dattatraya has said that the guidance of President Shri Ram Nath Kovind will give a new direction to rural development, especially in Haryana.
The Governor said he is very happy that President Shri Ram Nath Kovind himself inaugurated Adarsh Gaon Sui, which has been developed under 'Sawprerit Gram Vikas Yojana.'
With this visit of the President, other social workers and industrialists of the state and the country will be inspired to contribute in the development of rural areas. "I am glad that Sui village has facilities of an urban habitat for which every contributor to this cause deserves praise," said Shri Dattatraya.
Shri Dattatraya said that Rashtrapati Ji's visit to Sui village has been very memorable. He interacted with the people of every section of the village during this visit. He also interacted with the students after reaching the village school and while encouraging them he said that they should concentrate on their studies and take education seriously as they are the future of the country.