Governor Shri Bandaru Dattatraya while interacting with the employees during his surprise inspection of the Haryana State Child Welfare Council headquarters in Sector 16, Chandigarh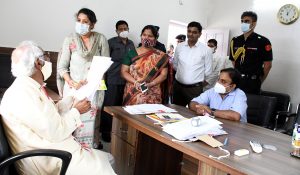 Haryana Governor Shri Bandaru Dattatraya on Wednesday directed the Haryana State Child Welfare Council (HSCWC) to effectively implement all programmes meant for children and ensure their holistic development. Shri Dattatraya, who made a surprise visit to Bal Vikas Bhawan, headquarters of HSCWC today in Sector 16 here, interacted with officers and staff. Shri Dattatraya visited every room of HSCWC and checked how HSCWC is contributing towards children's holistic development!
Shri Atul Dwivedi, IAS, Secretary to the Governor, Smt. Parisha Sharma, Vice President, HSCWC, Shri Praveen Attray, General Secretary and Shri OP Mehra were also present during the Governor's visit.
Shri Dattatraya said that due to Covid-19 pandemic, children have to face many problems for the last two years. "Children were deprived of various activities being carried out in the District Child Welfare Centre. It is the responsibility of all employees of HSCWC to implement all programmes effectively for their physical, mental and educational development," said Shri Dattatraya.
The Governor said that under the learning facility at Bal Bhawans, Mini Bal Bhawans in the State, children should be developed according to their interests by enhancing their skills and activities related to pre-training. There is also a need to increase their rehabilitation and counselling activities.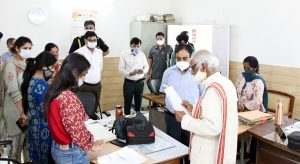 He said that children's talent can be further honed by providing them with a good library facility, craft centre, coaching classes on Sundays and regular classes for the children at Bal Bhawans on a regular basis to bridge the gap caused by Covid-19. "If we can fully develop the future generation of the country, then surely India will become stronger and more developed," he said.
The Governor also gave instructions regarding keeping cleanliness, maintaining filing and keeping other details updated. Shri Dattatraya said that lack of funds would not be allowed to be a hurdle in the matter of development of children. All round development of children will be ensured with the cooperation of the State government, said Shri Dattatraya.