Governor Shri Bandaru Dattatraya paying homage to the great freedom fighter Raja Rao Tula Ram on the occasion of 'Haryana Veer Evam Shaheedi Diwas' at Raj Bhavan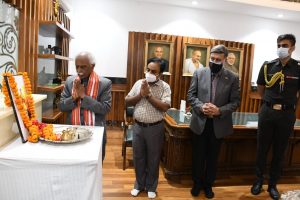 By taking inspiration from our great freedom fighters and martyrs, our youths need to work with zeal and commitment for the unity, integrity and prosperity of the country so that the dream of a strong and inclusive India is realized. This was stated by Haryana Governor Shri Bandaru Dattatraya while paying his tributes to great freedom fighter Rao Tula Ram and all other known and unknown martyrs of the State on the occasion of 'Haryana Veer Evam Shaheedi Diwas' today.
Paying his floral tributes to Rao Tula Ram at Raj Bhavan here, Shri Dattatraya said that today we are enjoying and reaping the great benefits of being a free nation for which the real credit goes to the martyrdom of an umpteen number of brave warriors, who made supreme sacrifices and relentless struggle, leading to India's independence on August 15, 1947.
"In the revolt of 1857, Rao Tula Ram fought the Britishers firmly. This raised the morale of the people across the country," added Shri Dattatraya, urging all to celebrate 'Azadi Ka Amrit Mahotsav' with zeal so that our young generations should know that our freedom is quite hard earned and needs to be preserved under all circumstances!
He said that Rao Tula Ram blew the bugle of revolt against British rule. He did not give up and embraced martyrdom at the age of 38 in Kabul. The spark that arose in 1857 for the independence of the country led to India's independence in 1947. Shri Dattatraya said that the great freedom fighter Raja Rao Tula Ram and all other brave martyrs are the role models for the youths of the country.
Lauding Haryana's role in the freedom movement, Shri Dattatraya said: "It is a matter of pride for us that today every tenth soldier in the country's defence forces is from Haryana. Whether we talk of the war fought for independence or the wars after independence, the brave soldiers of Haryana have always made an important contribution to national security."
On this occasion, Shri Dattatraya also interacted with Lt Gen Depinder Singh Ahuja, AVSM, (Retired), who also apprised the Governor about the working of the army. Lt Gen Ahuja also shared his experience of serving in the army. He presented a book titled 'Self Realization By Meditation' to Governor Shri Dattatraya.