Governor Shri Bandaru Dattatraya addressing 5th mega blood donation camp organized by Ashwini Gupta Memorial Trust at Agrawal Bhawan, Sector 16, Panchkula, through a recorded message
Chandigarh, March 28, 2022: Haryana Governor Shri Bandaru Dattatraya has said that every drop of blood plays an important role in saving a human life. That is why donating blood is considered to be a pious act. If education makes one's life, blood gives life to a person.
Shri Dattatraya shared these thoughts through a message on the occasion of 5th blood donation camp organized at Agrawal Bhawan, Sector 16, Panchkula today in the memory of Late Shri Ashwini Gupta.
He said that the mega blood donation camp was organized by the Ashwani Gupta Memorial Trust in the memory of Late Shri Ashwini Gupta. He said that Haryana Vidhan Sabha Speaker Shri Gian Chand Gupta Ji is imparting education, promoting sports activities and encouraging social activities like donating blood through the Trust.
In his message, Shri Dattatraya also paid tribute to Late Shri Ashwini Gupta, stating that nothing could be a better tribute to the departed soul than organizing a blood donation camp in his memory. He conveyed his best wishes to the entire team of the Trust for the camp.
Earlier, Haryana Vidhan Sabha Speaker Shri Gian Chand Gupta prayed for the peace of the departed soul by paying floral tributes at the portrait of Late Shri Ashwini. He said that his son Ashwini Gupta died in a road accident on this day in 2006. He said that it was a very painful moment for him and his family.
Seeing his interest towards social service and sports, Ashwini Gupta Memorial Trust was set up through which social service work and sports competitions are being organized for the last 16 years. Apart from this, 11 eye camps have also been organized by the Trust.
On this occasion, Shri Gupta honoured the blood donors by putting up badges and giving them a citation. He distributed five tricycles and two-wheel chairs to differently-abled people on behalf of the District Red Cross Society.
Addressing the gathering as the Special Guest of the program, Senior Pracharak of Rashtriya Swayamsevak Sangh, Shri Prem Ji Goel said that late Ashwini Gupta was a good sportsperson as well as a social worker. He used to participate in various activities for the society.
On this occasion Mayor Kulbhushan Goyal, Civil Surgeon Dr Mukta Kumar, Secretary, Red Cross Society, Panchkula, Smt Savita Agarwal, Brahmachari Sampurnanand Ji Maharaj, other distinguished dignitaries and blood donors were present.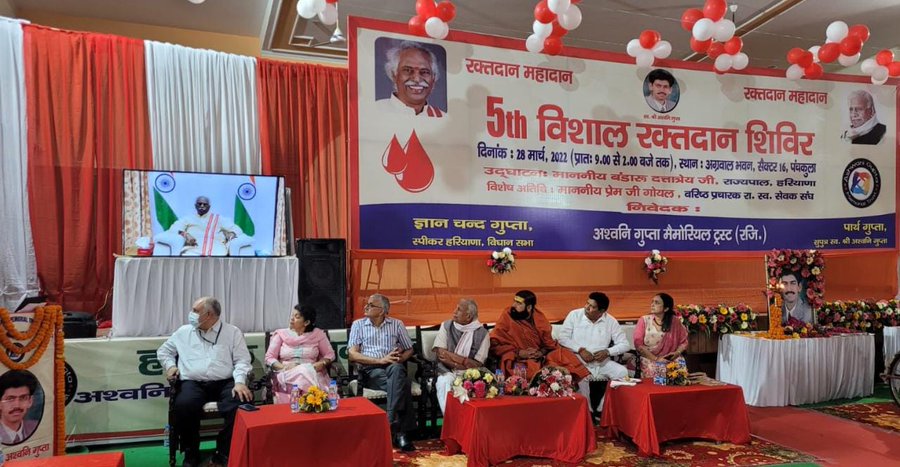 Governor Shri Bandaru Dattatraya addressing 5th mega blood donation camp organized by Ashwini Gupta Memorial Trust at Agrawal Bhawan, Sector 16, Panchkula, through a recorded message