Chief Secretary Shri Sanjeev Kaushal makes a courtesy call on Hon'ble Governor Shri Bandaru Dattatraya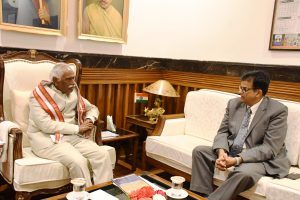 Haryana Governor Shri Bandaru Dattatraya on Wednesday congratulated the newly-appointed Chief Secretary of the state Shri Sanjeev Kaushal, on assuming office. Shri Sanjeev Kaushal today made a courtesy call on Governor Shri Dattatraya.
Shri Dattatraya said that Shri Sanjeev Kaushal would work in coordination with all officers as the new Chief Secretary which will ensure that every person gets benefits of welfare schemes and programs of the government. The post of Chief Secretary is very important in the administrative system, said Shri Dattatraya, adding that the new Chief Secretary and his team of administrative officers would make every effort to take the welfare policies of the government to every needy person so that the state progresses further.
Governor Shri Dattatraya also discussed in detail about the better implementation of various schemes and programs of the government. He also discussed the preparations for the coming International Gita Mahotsav being organized in Kurukshetra and took the feedback from Shri Kaushal.
Shri Dattatraya said there is a need to modernize the places of pilgrimage in Kurukshetra and the surrounding area to develop Kurukshetra as the Gitasthali at the international level. He said that depicting incidents related to the Mahabharata in the form of sculptures around Brahma Sarovar and other pilgrimage sites of Kurukshetra will increase the footfalls of devotees and other tourists. The Governor also stressed the need to develop further other prominent places of pilgrimage in the Kurukshetra Jyotisar shrine.
Chief Secretary Shri Sanjeev Kaushal assured Governor Shri Dattatraya that the policies of the government would be fully implemented under his guidance. The development of the state will get more momentum by ensuring better coordination between the government and the administrative machinery. He said that speedy disposal of problems of the common man and giving transparent administration would be his priority.
Chief Secretary Shri Sanjeev Kaushal informed that 'Gram Utthan Antyodaya Melas' are being organized across the state. Through these fairs, people with less than Rs one lakh income will be identified in the first phase to be helped out. The administration will play an important role in making the program effective. Instructions have been given to the administration to work in a mission mode in this regard.
It is noteworthy that Shri Sanjeev Kaushal has left an indelible mark on his working style while holding important posts like Deputy Commissioner of the District, Principal Secretary to Chief Minister, and Finance Commissioner. Shri Kaushal is a 1986 batch IAS officer. He is the 35th Chief Secretary of the state. Secretary to Governor Shri Atul Dwivedi was also present on the occasion.