My Tryst With Emergency: The Darkest Phase of Indian Democracy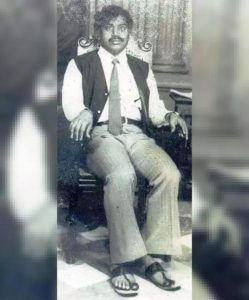 In Independent history of India, June 25, 1975 was the darkest day, which will haunt generations to come. The direct consequence of the Emergency was the suspension of various democratic rights. Many draconian laws were enacted during this time period, posing a serious threat to democratic values. It adversely impacted civil liberties. All the fundamental rights listed in Articles 36, 37, 38, 39, 40, and 42 of the Constitution were suspended. Fear was all pervasive. Uncertainty had gripped us. The entire country had become a de facto prison.
At that time I was working as a Rashtriya Swayamsevak Sangh (RSS) Pracharak for Nizamabad and Adilabad zone, belonging to the erstwhile state of Andhra Pradesh, and now in Telangana. I had come to know that all of my colleagues had been arrested. The Lok Sangharsh Samiti had been formed to carry out the agitation against the Emergency across the country. Jayaprakash Narayan was spearheading the movement.
I used to wear kurta and pyjamas but had to go to pant, shirt, coat and tie. I did not go for any hair cut. Being a full time worker of the RSS, I was very particular about my dress code but adopted the western dress out of sheer compulsion. I changed my name to Dharmendra and went underground and kept mobilizing the people for agitation against the Emergency. That time all newspapers were censored and only government news was published. People were not able to know what was happening outside. So, we started a bulletin with facts and distributed them among the people secretly.
I would like to share with readers some incidents and horrible experiences we underwent during the Emergency. We had called some people to gather at Ramalaya temple at Rameshwarm Palli village in Nizamabad district for Satyanarayana Vratha for a secret meeting. It was also an occasion to celebrate the marriage of engineer Venkatshwar Reddy. Around 300 people came to the temple ground. I and ABVP worker Indrasen Reddy alias Jaan were getting ready for the meeting. But cops in the devotees' clothes were looking for us. They inquired from the people what was going on. They were told that Satyanarayna Vratha had been organized. When we moved towards the meeting hall, they followed us. Left with no option, I and Reddy jumped off from the temple wall, which was not less than 20 feet in height. Though Reddy was alright, I sustained an ankle injury. It made walking difficult for me.
However, I and Indrasen Reddy ran away from the village and reached the bus stop by covering a distance of nearly 20 km. We took the bus and reached our secret place at Hyderabad from Medak district, now in Telangana. At the temple, police arrested some people and inquired about us. Police asked them where Bandaru Dattatraya was. Police forced them to disclose information about me. The situation was very terrible. A large number of people had been arrested and harassed. Still, we were not demoralized. We continued with our agitation and mobilizing the people against the Emergency.
Finally, we reached the Bellampally mining area. Warangal Vibhag Pramukh Shridhar Ji was with me. We were having a meal at a small hotel. Police took us into their custody. They took us to the police station and started questioning. Within a few hours, Shridhar disclosed his identity but I did not say anything. In fact, I did not even open my mouth. I was quite determined not to disclose my identity. Police kept me in another room. Shridhar was arrested under the Maintenance of Internal Security Act (MISA) and was sent to Warangal Jail.
However, the police were not ready to give up in my case. They continued questioning and torturing me, disclosing my identity and sharing information about others. Police wanted to know: How many more friends were in my group? Where were their hideouts? Where is your printing press? What is the source of finances? What is your communication network? These were the questions the police were putting to me quite often. For three days, I did not share anything with them.
One day, Murali, a Head Constable from Adilabad, visited the police station. He wished me as he knew me. He hailed me: How are you Dattatraya Garu? Everybody in the police team was astonished. They were forcing me to accept that I am Bandaru Dattatraya. They tortured me, warned of severe action and even electric shocks, but I did not reveal anything to them. At last, they arrested me under the MISA and sent me to Chanchalguda Central Jail, Hyderabad.
In jail, I met people of different ideologies and even Naxalites, who had been arrested under the MISA. Former Union Ministers Bangaru Laxman, A Narendra, N Narasimha Reddy, former Labour Minister of Telangana, Mohammad Abdul Aziz, chief of Andhra Pradesh unit of Jamaat-e-Islami Hind, Cherabanda Raju and Varavara Rao were also in our jail. There were many others as well belonging to different ideologies and outfits including Anand Marg but all united in protesting against the Emergency. In the jail, I discuss issues of national importance and challenges arising out of the Emergency for democracy with different people. I also studied world history, world geography and political systems.
Meanwhile, a tragedy struck our family. My elder brother Manik Prabhu expired due to jaundice. I was allowed to take part in his funeral in the police escort. Later, I got one month parole as well. When I was in jail, every week my mother Late Eshwaramma used to come to meet me with fruits and eatables. She used to sell onions at Osmangunj market as a small vendor. Every time her visit used to give encouragement and confidence to fight for democratic values. One day my mother's brother – Maternal Uncle – came to her. He told her that elder brother is no more. The second one is in jail. How can you manage your family? My maternal uncle told my mother that if he gives undertaking of not doing such things in the future, he shall be able to get him pardoned with the help of Mayor of Hyderabad Lakshmi Narayana, and Secunderabad MLA L Narayan.
But my mother did not accept his condition that I should give any undertaking. She said: "My son has not done anything wrong? Has he committed any crime? Has harassed any girl? He is fighting for a greater cause of the nation. Why should he need to give any undertaking?" My mother said this to me during one her visit to jail. Even the police officer, who used to accompany her during the meeting, was surprised to hear the words of my mother. He just folded her hands in respect and offered 'Namaskar' to my mother. Though my mother had not studied at all, she was very much influenced by the dedication and work culture of the Sangh people.
(The author is Governor of Haryana. The views are strictly his personal)
ENDS
Caption: Hon'ble Governor during days of Emergency.