My mother stood by me when I was jailed in Emergency!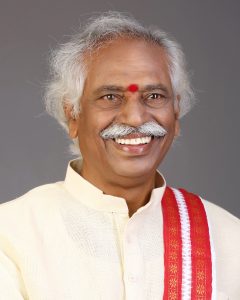 Just a few minutes before the clock struck midnight, the State of Internal Emergency was declared on June 25, 1975 by then Prime Minister Indira Gandhi on the pretext that there were allegedly imminent internal and external threats to the Indian state. It was the darkest day in the history of Indian democracy. All top national leaders – Jayaprakash Narayan, Morarji Desai, Atal Bihar Vajpayee, LK Advani, Madhu Dandavate, George Fernandes, and many others – were arrested. Press was muzzled. The judiciary committed to the government. There were no democratic rights. The RSS was also banned. Police committed brutalities against those opposed to the Emergency.
As a young RSS pracharak, I was actively participating under the banner of Lok Sangharsh Samiti led by Jayaprakash Narayan in mobilizing the people against the Emergency. It was indeed India's second struggle for independence. In order to avoid arrest I was not only underground but had also changed my dress to shirt, paint and tie with a different hairstyle. I had changed my name to Dharmendra and had adopted the nickname of Mamaji.
Lakhs of people had been arrested countrywide. The entire nation had become a virtual jail. Everything was suspicious. I was finally arrested under the Maintenance of Internal Security Act (MISA) and was put in Chanchalguda Central Prison at Hyderabad, which was my home for over a year along with fellow colleagues of RSS, Bharatiya Jan Sangh, and members of Naxalite groups, Jamaat-e-Islam and Anand Marg.
Life in the jail was different but quite disciplined thanks to our timetable. We used to get up at 6 am. It was also the time when the barracks were opened. For nearly one and a half hours, we used to do some exercise, Yoga and some Asanas like Surya Namaskar. 8.30 am was the breakfast time. At 9.30, we had classes along with other detainees.
After the class, we used to discuss news among ourselves which we were getting very secretly. It was followed by an hour-long lecture on different subjects like geography, sociology, history and political science. From 11 am to 1pm, we used to focus on studying books available in the jail library. After lunch at 1 pm, we were sent back to our respective barrack.
In the evening, normally between 5 pm and 6 pm, we used to play some games, while one hour was reserved for the evening Bhajan. Since there were detainees from different shades of thoughts, there was an atmosphere of discussion among us. At around 7.30, we were served dinner and then back to the barracks.
The time table was strictly followed by us. We had our own cook. So the food was well prepared. Except for freedom, we were able to utilize maximum time positively, though we were in agony over the state of affairs in the country. It was an unprecedented situation, which had been thrust upon the nation.
Meanwhile, a personal tragedy hit me during my imprisonment. My elder brother – Manik Prabu – died of jaundice. It was a big blow to me, mother and family. I had already lost my father when I was in 6th Class. I was granted the escort parole – from 12 pm to 8 PM – to perform the last rites of my brother. The same night I returned to the jail.
I still remember the agonizing moments and recall tears in the eyes of mother Eshwaramma. People were suspicious of my arrest. They did not know why I had been arrested and for what crimes. I was not allowed to speak to anyone as there were nearly 15-16 cops always surrounding me.
One day my mother came to see me in the jail. She had brought some fruits for me. She was happy to see that my health had not deteriorated in the jail. In fact, my maternal uncle, who was a close friend of a local Congress MLA and Mayor Hyderabad, had sent her to talk to me if I could sign a confession letter with the promise that I would never indulge in 'acts' against the government in the future. It will fetch me freedom from jail.
My mother, a small onion vendor in the local market, was not educated but very rich in character, self-respect and self-confidence, told Mama that her son would not confess having committed any wrong. She asked Mama and his friends: "Has my son committed any theft or dacoity? Has my son eloped with any girl? My son is innocent. He is in jail for the sake of the country and society."
However, they pressured her to seek my view. Mother asked me if I was keen to sign the letter. I asked her – What do you suggest? She said that I should not as I was not guilty of committing any wrong. Our conversation took place in the presence of a member of the Special Branch of the Police Department. I told my mother: "You have rightly said. I will not sign any letter."
This made my mother very happy. She was perhaps proud of what I did for the country. This also made me very happy and emotional as well. Her words and support gave me a lot of confidence to stand up against challenges and hardships. One should never compromise with self-respect whatever be the circumstances.
Later on, I was granted a month long parole but with the condition that I will not move out anywhere from home. At 10 am, I used to visit the police station of Afzalgunj to sign the register every day. On the way to the police station, there was a library where I was allowed to study. My mother and books were the real source of strength for me during the traumatic days of Emergency imprisonment!
I strongly feel that our youth should be aware of democratic values, rights and duty towards strengthening constitutional institutions so that democracy ever thrives and dictatorial tendencies are under check.
(The writer is Governor Haryana. The views expressed are his personal)