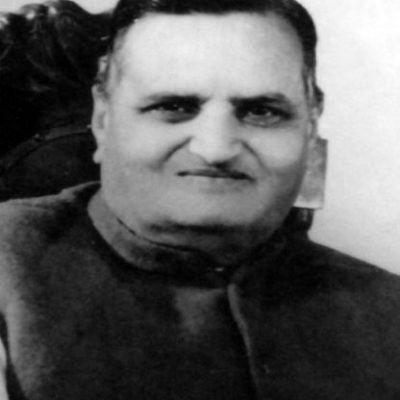 Shri Jai Sukhalal Hathi was born on 19th January 1909 at Muli, Gujarat. After obtaining his degree in Law from Bombay, he enrolled as an Advocate at the Bombay High Court. He served as the District & Sessions Judge in Rajkot State. He was the Chief Secretary to the Saurashtra Government in 1948. He was elected as the Vice – President of the Bar Association of India. Shri Hathi's book "Place of Indian States in Federation" was published by the Bhartiya Vidya Bhavan Publications.
Shri Hathi served in various important capacities including that of Member, Constituent Assembly (1946-47); Member Provisional Parliament, Rajya Sabha (1952-57); Member Lok Sabha (1957-62) and Member Rajya Sabha (1962). He served as the Deputy Minister for the Irrigation & Power, Government of India (1952-62); as the Minister of State for Labour & Employment (1962), as the Minister of Supply (1962-64), as the Minister of State for Home Affairs (1964-66); as the Minister for Defence Supplies (1965-66); as the Minister of State for Defence (1966-67) and as the Minister for Labour and Rehabilitation (1967-69). Shri Hathi also served as Chairman Industry, Drugs and Pharmaceuticals Ltd. He was the Chairman of the Committee on Drugs & Pharmaceuticals Industry appointed by the Government of India.
Shri Hathi served as the Governor of Haryana from 14th August 1976 to 23rd September 1977. Thereafter he was the Governor of Punjab from 24th September 1977 to 26th August 1981. He died in the year 1982.