Prof. Kaptan Singh Solanki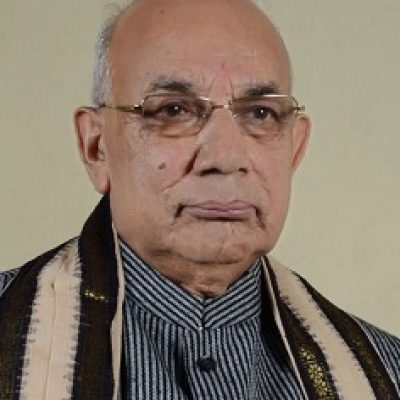 Hon"ble Professor Kaptan Singh Solanki was born on 1st July 1939 at Garhpara, Madhya Pradesh. He got his Post Graduation in English and B.ed from Vikram University, Ujjain and Jiwaji University, Gwalior. His passion for teaching led him to be a teacher at Banmor Cement Works School, District Morena from 1958 to 1965.
To pursue his mission of spreading knowledge Prof. Solanki also worked as a teacher at Vidyalok Mandir Sr. Secondary School at Gwalior from 1965 to 1966 and then rose to become a professor at PGV College at Gwalior from 1966 to 2000. His oratory skills and knowledge kindled an interest in politics. His knowledge and passion for service resulted in the post of General Secretary, BJP at Madhya Pradesh from 2002 to 2006, and then to State Convener, Maharashtra from 2007 to 2010, and from 2010 to 2014 became the State Convener BJP of Rajasthan. In August 2009 he was elected to Rajya Sabha.
His zeal for serving the Motherland made him a member in various committees like Committee on food, Consumer Affairs and Public Distribution in August 2009. In July 2010 he was made the member of Consultative Committee for the Ministry of Youth Affairs and sports. In April 2012 Prof. Solanki was re-elected to Rajya Sabha. He was then elevated to the Post of the Member of Advisory Committee to the Ministry of Power, India Cuba Parliamentary Friendship Group and India Bosnia and Herzegovina Parliamentary Friendship Group.
His consistent and steady growth resulted in the post of Governor of Haryana on 27th July 2014. Later he also assumed an additional charge of Governorship of Punjab and Administrator of Union Territory Chandigarh from 21st January 2015 to 21st August, 2016. He also assumed additional charge of Governor of Himachal Pradesh from 17th July, 2018 to 2nd August 2018.
Besides politics Prof. Solanki served as a state president in Sarasvati Vidya Pratishthan in Madhya Pradesh, as a regional Representative in Saraswati Shiksha Parishad in M.P, as Executive Director "Savdesh" Newspaper, Gwalior; General Secretary, Vidyalok Shikshan Samiti, Gwalior; Member, Madhya Bhartiya Hindi Sahitya Sabha, Gwalior; Prant Karyawah, Madhya Bharat Rashtriya Swayam Sevak Sangh; Prant Pracharak, Rashtriya Swayam Sevak Sangh 1998-2002 and Kshetriya samparak Parmukh, Rashtriya Swayam Sevak Sangh.