Governments are providing modern medical services for cancer patients: Haryana Governor Shri Bandaru Dattatraya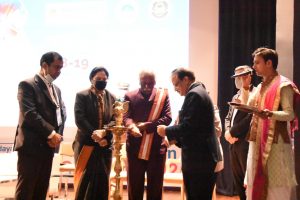 Chandigarh, December 19, 2021: Haryana Governor Shri Bandaru Dattatraya on Sunday said that the Central and State Governments are providing better medical facilities for the treatment of cancer patients. Under the Pradhan Mantri Swasthya Suraksha Yojana, 90 cancer hospitals based on modern technology have been built in the country and one in Jhajjar district of the state.
"The Central government is implementing the Strengthening of Tertiary Care for Cancer Scheme under which the setting up of 19 State Cancer Institutes and 20 Tertiary Care Cancer Centres has been approved. There is also focus on oncology in its various aspects in case of new AIIMS and many upgraded institutions under the Pradhan Mantri Swasthya Suraksha Yojana," said Shri Dattatraya while speaking as Chief Guest at the annual conference of Indian Society of Oncology on 'Innovation in Oncology' held at Sarvodaya Hospital, Faridabad.
"Setting up of National Cancer Institute at Jhajjar, Haryana and second campus of Chittaranjan National Cancer Institute, Kolkata, are also steps in this direction. All these will enhance the capacity for treatment of cancer in the country. Treatment of cancers is also available under Ayushman Bharat– Pradhan Mantri Jan Arogya Yojana. Quality generic medicines are being made available at affordable prices to all under Jan Aushadhi Scheme in collaboration with the state governments," added Shri Dattatraya.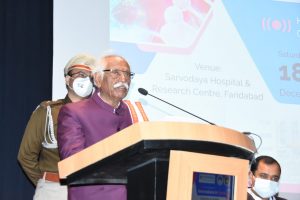 The Governor said that doctors are nothing less than gods for patients. He congratulated them and paramedical staff for doing a great job during the first phase and second phase of Covid-19 pandemic. The conference, which was held in a hybrid mode, had physical attendance of about 250 specialists from across the country and the world, while 1000 others participated virtually.
Shri Dattatraya said that while the government is doing everything possible to help people suffering from cancer, private sector players should also come forward with a blueprint to supplement the government efforts. "I firmly believe and you all will agree that health and education are not meant to make profits," he said.
"Health and education are the two most important facilities which must be accessible to all without any discrimination either in ease or in quality. Cost must not be allowed to be a hindrance in availing healthcare. I request you all to give your best in eliminating the menace of cancer from our country," said Shri Dattatraya.