After 76 years of independence, the talk of Yoga and Ayush started again in the country – Governor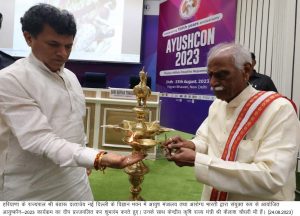 Ayushcon-2023′ organized at Delhi's Vigyan Bhawan, Governor of Haryana was the chief guest
PM Modi changed the mindset of mental slavery, the country is now again taking pride in it's culture
UNO declared 2023 as the International Year of Millets, looking into the nutritional benefits of Millets
Chandigarh, August 24- Governor of Haryana Shri Bandaru Dattatreya said that after 76 years of independence, now country has started talking about Yoga, Ayush and health. Had this campaign started in the year 1950, India would have been far ahead today.
Governor Sh. Dattatreya was speaking as the chief guest at 'Ayushcon-2023' organized by the Ministry of AYUSH in collaboration with Arogya Bharti at Vigyan Bhawan in New Delhi today. The theme of the program was 'Millets Food for Rejuvenation'. Union Minister of State for Agriculture Shri Kailash Chowdhary was also present on the occasion. The program was inaugurated by lighting the traditional lamp. Tributes were paid to Indian philosopher and yogi Sri Aurobindo on his 185th birth anniversary.
While addressing the audience, Governor Shri Dattatreya said that the program of Ayushcon is being organized with a holistic approach, in which the focus is on health, food and behavior. He said that today after 76 years of independence, we have again started talking about Yoga, Ayush and Arogya. In these past years mental slavery prevailed in the country, during which we lost our civilisation, culture and ethical values. During that period, the culture and ethical values of India were considered to be in inferior, while those of foreign countries were considered to be superior , but Prime Minister Shri Narendra Modi has reversed it and now world is looking towards India for leadership. Whether it is politics, moral values, industrialisation or health etc, India is changing and progressing in every field.
He said that for the first time in the year 2020, Prime Minister Shri Modi brought a new education policy in which provision has been made to get education in one's own mother tongue. Shri Dattatreya said that now medical education can be taken in Hindi also. The country has now come out of the mentality of slavery. He said that Ayurveda is an ancient system of treatment of our country and to give importance to it, Prime Minister formed a separate Ministry of AYUSH in November-2014 after years of independence of the country. Now a lot of work needs to be done in this sector.
Talking about millets (Shrianna), Shri Dattatreya said that India is the largest producer and second largest exporter of millets in the world. He said that India would be benefited the most in the world by promoting millets. He said that present year 2023 was declared as the International Year of Millets when Prime Minister Narendra Modi highlighted the nutritional value of millets in the United Nations. He said that millets has all the ingredients of nutrition like minerals, calcium, potassium, magnesium, iron, fiber etc. Giving his own example, the Governor said that he used to eat sorghum bread in his childhood and when he came to college, he started eating wheat flour bread because sorghum was considered the food of poor people, but when he suffered from covid, he was asked to eat millets. At the same time Shri Dattatreya said that he remained healthy as long as he ate millets. He said that millets, which was earlier called the food of the poor, is now being consumed by rich people considering its health benefits. He told that Indian culture is the best culture among the world, we should not forget it. Shri. Dattatreya also said that the outcome of the discussions in the two-day Ayushcon-2023 program should be sent to him, which he will be try to get implemented from the Central Government.
Earlier, Union Minister of State for Agriculture Shri Kailash Chowdhary while sharing his views said that the there is a saying in India culture "Pahla sukh Nirogi kaya" means first happiness is considered to be a healthy body. He said that to keep ourselves healthy, we have to improve our food habits. He also said that being influenced by the western culture, our youth today have started eating fast food like pizza, burger etc. which are harmful for the health. If we have to get rid of diseases then we have to return to our culture again. He said that Prime Minister Shri Modi aims to make India a developed nation by 2047 and to achieve that goal it is necessary for everyone to pay attention to health.
In this program, Governor Shri Dattatreya awarded Ayushman Excellence Awards for excellent services in the health sector. Among these, Padma Shri Professor Khadar Wali, known as Millet Man of India, Dr. Vinod Kumar Yadav, expert in Ayurveda and Panchkarma, Dr. Neeta Kumar, Senior Scientist from ICMR, Arunima Sinha from Art of Living were honored. Apart from these Mr. Siddarth S Kumar, Mr. Deshraj, Dr. Umesh Sharma, Dr. PK Sinha, Mr. Rajesh Gautam, Mr. Ravi Gaur, Mr. Deven Rai, Mrs. Poonam Dutta, Mr. Satya Bhushan Jain, Dr. SN Vasu, Mr. Dinesh Bokan, Mr. Satyaketu were also awarded. A souvenir of the program was also released.
On this occasion, Program Coordinator Dr. Bipin Kumar, National Organising secretary of Arogya Bharti Dr. Ashok Varshney, former MP Anil Thakur, Organizing Secretary of Ayushman Deepak Thakur, Dr. VS Chauhan were also present along with other dignitaries.