Governor Shri Bandaru Dattatreya paying tribute to Dr. Ram Manohar Lohia ji on the occasion of his 54th death anniversary at Raj Bhavan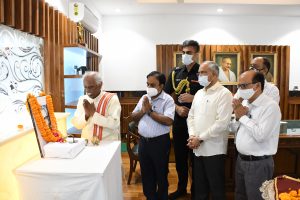 Haryana Governor Shri Bandaru Dattatraya has said that the ideas of social and economic equality of Dr Ram Manohar Lohia, a great freedom fighter and votary of social justice, are relevant even today.
Taking these ideas forward, the Central and State governments are working on the principle of 'Sabka Saath, Sabka Vikas, Aur Sabka Vishwas,' said Shri Dattatraya while paying floral tributes to Dr Ram Manohar Lohia on the occasion of his 54th death anniversary at Raj Bhavan on Tuesday. Secretary to Governor Shri Atul Dwivedi, IAS, Major Jasdeep Singh, ADC to Governor, and other officers of Haryana Raj Bhavan were also present on the occasion and offered their tributes to a great leader of the country. Shri Dattatraya, while reflecting on Dr Ram Manohar Lohia's personality, said that he was a true patriot who was in favour of real and human socialism. Throughout his life, he worked to uplift socially, educationally and economically weaker sections of society. Dr Lohia's contribution to India's freedom struggle movement has been incomparable. After attaining independence, he worked as a democratic warrior, said Shri Dattatraya. The Haryana Governor said in view of the fact that ideas and ideals of Dr Lohia are relevant today, the Central government has initiated various schemes for economic equality in the society. These schemes like Pradhan Mantri Jan Dhan Yojana (PMJDY) are benefiting the poor people. Similarly, schemes for the empowerment of sanitation workers, development of differently-abled people, OBCs, and Scheduled Castes, Scheduled Tribes have been started in the country, said the Governor. Shri Dattatraya has appealed to all to make every possible effort to help the poor, downtrodden and backwards and contribute significantly for the country's overall development. This will be a true tribute to Dr Ram Manohar Lohia, said Shri Dattatraya.