Dr. M. Nagaraj, Director, Housing and Urban Development Corporation, meeting the Governor of Haryana, Mr. Bandaru Dattatreya at Raj Bhavan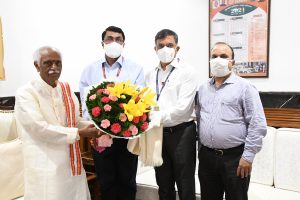 The Governor of Haryana Shri Bandaru Dattatreya on Wednesday said that the "Atal Renewal Mission" scheme being run in collaboration with the Central and State Governments has proved a boon in developing cities in Haryana holistically. Mr. Dattatreya was interacting with Dr. M. Nagaraj, Director, Housing and Urban Development Corporation (HUDCO) on urban development plans at Raj Bhavan here today.
On Wednesday, several officers of the Central and the State Governments made a courtesy call on Governor Shri Dattatreya at different times as per the Pre-schedule.
The Governor said that the Haryana is taking the advantage of the State as well as the Central government schemes to upgrade the cities of the State and strengthen the basic amenities. Under various schemes of urban development, the cities and towns of the state have been transformed. He congratulated the Haryana government for securing the second position in the country in the Swachh Survekshan-2019 conducted for urban areas. He directed the officers that the officers of the concerned departments should ensure that the benefits of the schemes of the government reach the last person standing in the queue.
In a meeting with Governor Shri Dattatreya, Dr. Nagaraj, Director, HUDCO, informed that a scheme named 'Atal Renewal Mission' has been started, under which water, sewerage, electricity, and transport facilities have been modernized in 500 cities and towns of the country. He is going. An amount of more than Rs 2500 crores has been spent in Haryana under Atal Renewal Scheme.
He told that this scheme was started by the Prime Minister of India, Shri Narendra Modi in 2015. The main objective of this scheme is to bring changes in the infrastructure in small cities and towns of the country to bring them into the category of metros. Under this scheme, those cities have been selected where the population is more than one lakh.
All the officials and dignitaries who came to meet Governor Shri Dattatreya on Wednesday extended their best wishes by presenting bouquets.